By Jude Kagoro*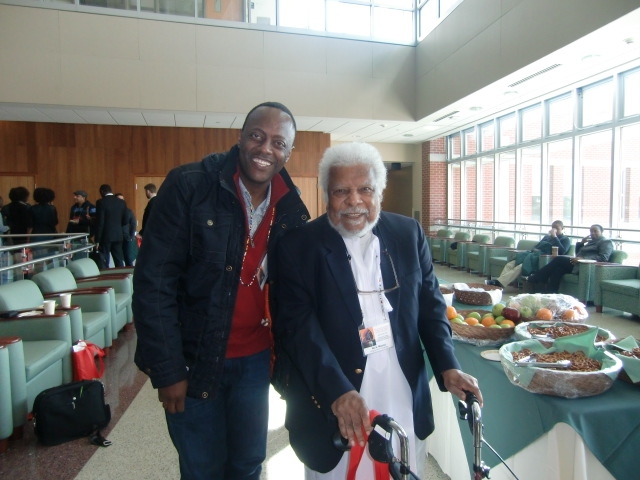 On 27th October 2014, a Ugandan news magazine, the Independent, published an article, "Prof. Ali Mazrui: Remembering a Giant Mind of Africa." The article attracted several comments, most of which were centered on the claim that Prof. Mazrui was a Kenyan and also a de facto Ugandan in many ways.
In the same article I highlighted Mazrui's connections to and love for Uganda. A comment purportedly written by a Kenyan retorted, "Ugandans stop claiming our Mazrui. Just because he taught at Makerere does not make him Ugandan…." Another writer sarcastically noted, "hahaha, Ugandans are amazing; first Amin [former Ugandan president] claims Kisumu; then Museveni [the incumbent Ugandan president] claims Migingo [an Island in Lake Victoria]; again newspapers claim Barrack Obama [the American president] and now Dr. Kagoro and his supporters are claiming Prof. Mazrui. Why do you always want to steal from Kenya?"
Then a Zambian, Precious Chilufya, countered, "Not too fast Ugandans and Kenyans to claim Mazrui. To me, growing up in the 1990's, Prof. Ali Mazrui was Zambian because he was a weekly feature on our TV screens with his documentary "The Africans: A Trple Heritage." This man is a legendary African scholar who transcended being Kenyan."
The preceding comments, among others, are a microcosm highlighting that Prof. Ali Mazrui was an inspiration, a larger-than-life intellectual and a symbol of scholarly pride for many Africans. The Ali Mazrui brand has been enormous across Africa and beyond. One has to excuse Ugandans for emphasizing the "Ugandaness" of Mazrui. Who would not want to identify with an iconic personality? He is considered a Meta figure who nurtured many academics in the country. For that matter, I beg the reader to tolerate my own emphasis of Mazrui's Ugandan connections. In fact, some press reports in Uganda have highlighted that Prof. Mazrui once made attempts to add the Ugandan citizenship to his Kenyan one.
Moreover, Makerere University, the most prestigious and oldest university in Uganda, holds a proud record of having given Mazrui a platform to blossom and his first high profile appointments in the intellectual world. He joined the famous Hill as a political science lecturer in 1963, before becoming Head of Department of Political Science and later the first African Dean of the Faculty of Social Sciences.
During his time at Makerere, the incumbent Chancellor of the University, Prof. John Ddumba-Ssentamu writes, Mazrui laid a firm foundation for Political Science Studies. This included the introduction of courses in International Relations and Law, which have since gone a long way in making the Department more relevant for both local and international issues. Fittingly, in Mazrui's honor, Makerere University initiated the Mazrui Endowment Chair and the East African Ali Mazrui Centre for Global Studies in 2009.
Mazrui was an outstanding speaker whose addresses and lectures were always popular and were attended to maximum capacity at the university's historic Main Hall. During his time at Makerere, Prof. Anyang' Nyong'o writes that Mazrui was always steaming with fresh thoughts which he engaged with his students, colleagues and the general public in forums such as open lectures, academic journals and in Ugandan newspapers.
Similarly, a renowned Ugandan scholar, Prof. Mahmood Mamdani, remembers that Mazrui established a tradition of bringing contentious and urgent socio-political issues into the university for debate. Hon. John Ken Lukyamuzi, a prolific debater, a leading opposition figure in the Ugandan legislature and a product of Mazrui's debating initiatives at Makerere University describes Mazrui as a man with a voice of command and that every word he stressed was worth stressing.
Mazrui was a fearless intellectual who profoundly influenced macro-political debates within the framework of Uganda. He sharply and uprightly criticized the former Ugandan President, Milton Obote, for suppressing Ugandans and for abrogating the country's 1962 constitution. Indeed, Mazrui went further to describe Obote as "a great leader with great mistakes" in a time when it was deemed very dangerous to criticize Obote.
For a while, when self-proclaimed Field Martial, and "Conqueror of the British Empire," Idi Amin, took over power through a coup in 1971, Prof. Mazrui was his blue-eyed intellectual. Prof. Mazrui revealed later to the New York Times in 1986 that Amin had invited him to be his "Kissinger" or his chief adviser on foreign affairs. Instead, Mazrui rebuked Amin and his excesses, an epoch that sadly led to him having to flee the country. Noteworthy, Mazrui had the reputation of being courageous enough to concurrently critique both Idi Amin's and Kenyan President Jomo Kenyatta's regimes. Those activities eventually forced Mazrui to choose the US as his exile destination.
While by now much has been said and written about the life and works of the late Prof. Ali Mazrui, I personally would like to celebrate his ability to sharply generate debate, pro and con, an idea he espoused. I am particularly reminded of a scholarly debate I unintentionally generated by citing his work. In April/May 2010, I was invited to present a paper at an international conference hosted by the Center for Contemporary Theory and the Committee on African Studies at the University of Chicago. In the course of presenting the paper titled "Politics, Military and Society in Uganda," I read out a citation from Ali Mazrui's 1975 thesis, "Soldiers and Kinsmen in Uganda: The Making of a Military Ethnocracy."
The citation was: "Statehood has so far been the final consolidation of the marriage between politicization and militarization and what we have now is a basic transition from the warfare state to the welfare state. This welfare state has been marked by a paradoxical process of attempting to divorce the military from politics in the state." At the end of my presentation, one American professor made a comment to the effect that I should not have quoted Mazrui because in his perspective, Mazrui was a "journalist" and not an academic.
Before I could respond an argument ensued among senior professors in the room. Many thought that Mazrui was too big a name to ignore and in fact, another professor in the room inferred that any academic work on the socio-politics of Uganda and Africa as a continent could not be considered complete if Mazrui was not mentioned. Perhaps one may excuse the professor's description of Mazrui as a "journalist" but not the additional comment "not an academic."
One of Mazrui's main strengths was his ability to creatively simplify heavy academic texts for the interest of non-academics. He wrote many articles in Kenyan, Ugandan, and South African newspapers. Ultimately, in 1986, Mazrui's legendary reputation travelled beyond academia when he authored and hosted the nine-part television series, "The Africans: A Triple Heritage." This master piece was aired on the BBC in England, the Public Broadcasting Service (PBS) in the United States and subsequently, as the comment from Zambian Precious Chilufya indicates, was also embraced by television audiences across Africa and the world.
In April 2013, I was honored to be invited by the New York African Studies Association (NYASA) to attend to participate at its 38th annual conference in Binghamton University, New York. The conference with the theme, "Global Africa, Triple Heritage and Pax-Africana: Looking Back and Looking Forward," was a truly a most stimulating academic events. The organizers purposely synchronized the conference with the grand celebration of Prof. Mazrui's 80th birthday as well as the 50th year of his publishing career. Despite his already declining health, Prof. Mazrui attended several presentations, freely interacted with his guests and found time to individually encourage young scholars in their academic endeavors. He was humorous and refreshingly down-to-earth, a true inspiration.
The conference/celebrations exemplified Mazrui's love for Makerere University and Uganda in general. Makerere had a special exhibition stand and was represented by a large delegation led by the Vice Chancellor Prof. Ddumba-Ssentamu. Uganda had the largest number of invitees, including the King of Buganda, Princess Elizabeth Bagaya of Toro and other high profile politicians, businessmen and academics. At the function, Prof. Mazrui personally spoke highly of Makerere University and referred to Uganda as home, just like Kenya.
I am therefore gratified and proud to have met Prof. Ali Mazrui the Kenyan, the African and de facto Ugandan. He greatly influenced debates on Africa and the world at large and I hope – indeed, expect, that his towering influence will shape academia beyond the continent for many years to come.
*Dr. Jude Kagoro is a Ugandan and a Post-doctoral Fellow, Institute for Intercultural and International Studies, University of Bremen, Germany. 
Comments
comments