By Jean-Pierre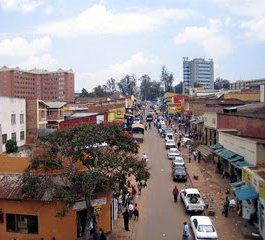 Nexus Capital Markets a New York headquartered bank is looking to expand its business financing operations into local market to lead transactions with companies in raising capitals.
The company operates in over 25 countries in Africa, the bank says it brings complete menu of services that include debt and equity capital raising, M&A execution and advisory services, and divestitures.
" It is expected that the majority of the transactions in Rwanda will be debt and equity related capital-raises based on our experience in other similar markets." Said David S. Levin, the managing partner of Nexus Capital Markets,LLC in an interview.
The pan African Bank entry in Rwanda could boost private sector as some local established companies that want to grow their businesses will find an alternative financing option, in addition commercial banks which interest rates which are sometimes higher for them.
Nexus operates in a variety of industries including food/agriculture, pharmaceuticals and healthcare, transportation, oil & gas, financial services, infrastructure among others.
Investment banks mobilize long- term funds mainly by investing in long term assets or equity financing. Currently there is no investment bank in the country.
Robert Mathu CEO of Rwanda Capital Markets Authority told the media that if the company enters local market it will be positive news for businesses as it will attract other investments in the country and will help local companies to mobilize long- term funds.
Analysts say the entry of an investment bank could be good news for local companies as commercial banks mobilize small and medium term deposits that are not possible to transform into long term financing-a gap that can be filled by investment banks.
Levin said the frequent challenge they face in emerging markets is lack of exposure for companies on "cross-border" capital raise previously. Nexus primarily raises capital with its institutional partners in the U.S. and Europe.
The bank has started recruiting local business development managers." We're just beginning to move forward in the country as we speak." the managing partner said recently.
However the bank says it will be selective in dealing with local businesses." You can't have a company with $20 million in revenue trying to raise $300 million." Explained the managing partner.
According to Nexus, the largest deal it closed in Africa was $161 million for one of Nigeria banks and the smallest is an $8 million for a small housing transaction in South Africa.
Central Bank says on the financing opportunity for the economy "we consider it [an investment bank] as key in mobilizing long term resources which are currently needed for sustainable development."
Comments
comments