Diplomatic tensions simmer as several countries demand decisive action over attacks on their nationals.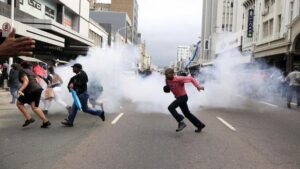 SOUTH Africa is facing a backlash from an increasing number of African nations after mobs repeatedly attacked foreigners and looted their stores, prompting its presidency to warn that the country's interests could come under threat if the upheaval was not arrested.
At least five people have died in clashes in the eastern port city of Durban, Johannesburg and other towns since last week, while more than 1,400 have fled their homes.
In a sign of how deep-rooted the problem may be, a solidarity march against xenophobia in Durban on Thursday was interrupted by mobs insisting foreign nationals must leave.
Some poor South Africans see Zimbabweans, Malawians, Somalis, Ethiopians, Malawians and Pakistanis as competitors for jobs and business opportunities in a country with a 24% unemployment rate. One fifth of the population of 54 million survive on less than 335 rand ($28) a month.
South Africa's cabinet warned on Friday that companies operating in the rest of Africa may be targeted, just as Johannesburg-based Sasol Ltd. announced it's repatriating South African employees working on projects in Mozambique for their own safety.
The blowback also came from unexpected quarters: award winning South African kwaito group Big Nuz cancelled their show set for Friday in Bulawayo, Zimbabwe's second city, saying they feared violence from locals.
The violence is embarrassing for the ruling African National Congress, whose members sought refuge in countries on the continent before white-minority rule ended in 1994.
The South African government on Friday met with ambassadors and diplomats from several African countries to reassure them of the safety of their nationals and keep relations onside.
Sparked condemnation
The violence of the past week has sparked condemnation from governments from Ghana to Malawi, protests in Nigeria and Zimbabwe and calls from major continental groups such as the African Union for South Africa to act decisively to stem the attacks.
"If this was happening here in Zimbabwe, the calls for immediate action would be like a cacophony," Information Minister Jonathan Moyo said in a phone interview from Harare on Thursday. South Africa has to act "to save the lives and livelihoods of their fellow African brothers and sisters from Zimbabwe and elsewhere on the continent. They must act immediately against any form of racism or xenophobia."
Malawi hired buses to repatriate its citizens caught up in the violence, "I would have wished the government of South Africa would have done more," Information Minister Kondwani Nankhumwa said by phone from Blantyre, the capital, on Thursday.
"We are concerned, we are disappointed. We want to take our people back home until the situation normalises."
The Economic Community of Western African States, a 16- nation regional group, said in a statement on Friday that it was regrettable that "the very people, whose nations sacrificed to help South Africans fight, repel and defeat apartheid, will today be considered aliens and hacked to death in such barbaric manners."
Patrick Gaspard, the US ambassador to South Africa, the United Nations and the African Union, a 53-nation continental grouping, also issued statements on Thursday condemning the attacks.
"Whatever the challenges we may be facing, no circumstances justify attacks on people, whether foreigners or locals," said Nkosazana Dlamini-Zuma, the chairwoman of the AU Commission and a South African citizen. "It is unacceptable."
Formal complaint
China made a formal complaint with South Africa's government about attacks directed against its nationals, Xinhua news agency reported on Thursday, citing Foreign Ministry spokesman Hong Lei.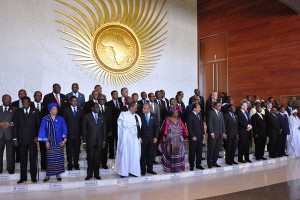 The Malawi and Somali governments have set in motion plans to repatriate their nationals. The Zambian, Ugandan, Kenyan and Botswana governments also said they were closely monitoring the situation and would pull out their nationals if necessary, while Namibian ruling SWAPO party youth activists said they would organise a protest march in Windhoek.
Reactions from African Union host Ethiopia, which was set to receive the bodies of three of its nationals killed in attacks in South Africa, have been among the most intense, as several Ethiopians sought to remind South Africa of the role the country played in its struggle against apartheid.
Africa's biggest economy Nigeria, which also has several of its nationals in South Africa and has had a number of diplomatic spats with Pretoria despite being a major trade partner, on Friday added its voice to the pushback.
"The Federal Government… calls on the government of South Africa to live up to its responsibilities and take all necessary steps to stop the on-going xenophobic attacks and put in place policies and structures to prevent a reoccurrence," the ministry of Foreign Affairs said in a statement.
This came after some Nigerian lawmakers on Thursday pushed for laws to frustrate South African businesses. A vote to sever diplomatic ties was however defeated.
Repatriate nationals
An estimated 20,000 Nigerians live in South Africa, and Abuja said it would repatriate its nationals if the situation deteriorated.
So far nationals from Ghana, Ethiopia, Zimbabwe and Tanzania have been reported killed, although Tanzanian envoy Elibahati Ngoyai said there was no official confirmation his compatriots had died in xenophobic attacks.
Jeff Radebe, a minister in the South African presidency, warned that the attacks would have far-reaching consequences for the nation's economy and its relations with Africa and the rest of the world.
"South African companies who are running successful businesses in the continent who help to contribute to our revenue and sustaining our economy may suffer the similar fate," he told reporters in Pretoria, the capital. "South Africa is not a violent country and therefore a few individuals cannot be allowed to hold the whole country to ransom."
In an increasingly globalised world, South African businesses have cause to be concerned about a possible continental backlash. Many have branched north, with telecoms giant MTN, carrier South African Airways, retail giants Shoprite and Woolworths and pay TV giant Multichoice among the most visible.
FDI flows
MTN for example derives the bulk of its profits from Nigeria. The country's banks and insurers such as Standard Bank, Absa, First Rand, Sanlam and Liberty Life are also highly active in countries to the north.
"Here in Zimbabwe we support South African businesses, which sell goods and conduct trade. The South African people can't have their cake and eat it," Zimbabwe opposition MP Jessie Majome said on Wednesday, as he delivered a cross-partisan petition to the South African embassy in Harare.
In 2012, South African invested in more new Foreign Direct Investments in Africa than any other country with its 75 projects—the most— valued at $1.4 billion making up 12% of total FDI into Africa.
Only China, India, the US, UK and Canada invested more by value.
Most investments by South African firms have been in services and consumer products, while resources also showed up on the radar.
With close to 50,000 jobs created in these cross-border links, neither of the two parties can afford soured relations.
*Source Mgafrica
Comments
comments