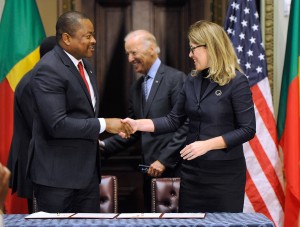 The $375 million compact, which includes a $28 million contribution from the Government of Benin, aims to strengthen Benin's national utility, attract private sector investment, and fund infrastructure investments in electric generation and distribution as well as off-grid electrification for poor and unserved households.
Only one-third of Benin's population has access to electricity and total consumption is low due to limited access and availability.  As a result, electricity consumption in Benin is below the average for Africa's low-income countries at 110 kilowatts per hour per capita annually, or 0.01 percent of the average for middle-income economies.
Benin produces only one percent of the electricity it consumes and relies heavily on imports from neighboring countries—primarily Nigeria, which is also experiencing power shortfalls. At the same time, rapidly growing demand for power, at 6 percent per year, has stressed Benin's national electrical grid, creating daily power outages that hurt businesses and social service provision. Without additional power generation, Benin cannot meet the needs of its citizens or businesses, or fully capitalize on its geographic role as a gateway for West Africa and Africa's largest market—Nigeria.
Compounding the problem are consumer tariffs that are not cost-reflective, leading to severe resource shortages for new investment in generation, extension of the network, or operations and maintenance of the existing network.  As a consequence, the network experiences high losses, frequent outages, and poor quality service.
Source MCC ,Video White House
Comments
comments