By  Desire Nimubona*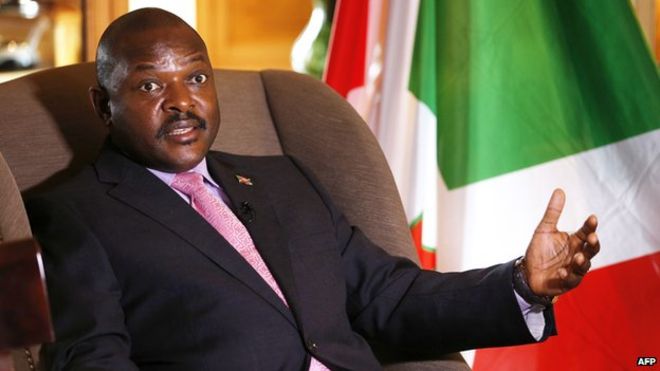 The European Union imposed an asset freeze on a Burundi general who backed a failed coup in May, and on three people in the East African nation's police, cabinet and intelligence service.
Leonard Ngendakumana, who participated in the attempted overthrow of President Pierre Nkurunziza, was sanctioned for "obstructing the search for a political solution," as well as responsibility for grenade attacks and incitement to violence, the EU said Friday in its official journal.
Godefroid Bizimana, the deputy director-general of national police, was named for taking decisions that led to "disproportionate use of force and acts of violent repression" against demonstrations that began in late April after Nkurunziza announced his bid for a third term.
A cabinet official responsible for police matters, Gervais Ndirakobuca, was sanctioned for giving instructions that spurred "violations of international human-rights law," while a national intelligence service officer, Joseph Niyonzima, was named for training and arming the Imbonerakure, a pro-government militia behind violence and rights abuses.
Burundi's government hasn't received information about the sanctions, spokesman Philippe Nzobonariba said by phone from the capital, Bujumbura. If the government is officially informed then there will be an "official reaction," he said.
More than 130 people have died in Burundi over the past five months in clashes sparked by Nkurunziza's decision to stand for re-election. Some of the slain were found with their hands tied behind their back or their bodies showed other signs of torture, according to the United Nations. Opponents say Nkurunziza's re-election in July violates a two-term limit set in peace accords that ended a 12-year civil war in 2005.
Belgium on Friday said it has suspended its support for some development projects in Burundi because of political instability. Funds will be redirected to benefit the population more directly, Development Minister Alexander De Croo said in a statement.
Comments
comments