By Wallace Mawire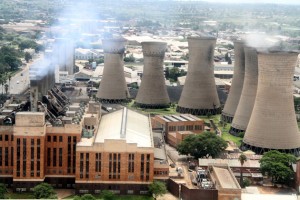 Zimbabwe's Minister of Finance and Economic Development, Patrick Chinamasa has received  an $87 million credit line on behalf of the Zimbabwe government in New Delhi, India from the country's export Import Bank  for the renovation and upgrading of Bulawayo Thermal power station, Chinamasa disclosed in a statement.
"The facility is one of the fruits of our accelerated re-engagement with the BRICS countries and pursuance of our Look East Policy," Chinamasa said.
Chinamasa also said that credit lines extended to date from the Export Import Bank of India include; upgrading of Deka pumping station and River Water Intake system to support the cooling system for Hwange Thermal power station to the tune of $28,6 million, purchase of vehicles and spares for the Ministry of Tourism and Hospitality Management of $49,9 million and the purchase of mining equipment and spare parts for Hwange Colliery company to the tune of $13,03 million.
Chinamasa said that the upgrading project of the Bulawayo thermal power station is expected to be completed in three years. It is also expected to contribute an additional 70MW to the country's national grid from the current 30MW.
"The project will consequently assist in reducing the current power deficit which currently stands at 1 500MW in circumstances of depressed demand," Chinamasa said.
He added that the plant will now replace the won out and inefficient plant and will introduce more advanced technology to cut down on additional costs. t is also expected to create downstream employment in the coal and transport industry, according to Chinamasa.
Comments
comments