By Tendai Dube*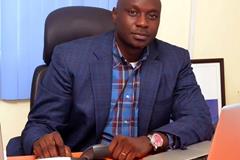 Obinna Ekezie is the founder of Wakanow.com, one of the fastest growing and largest internet travel sites in Africa; Ekezie is also an Entrepreneur of the Year Finalist at the 2015 All Africa Business Leaders Awards to be hosted in Lagos in October. He spoke to CNBC Africa about quitting basketball after seeing the growing opportunities in his home country Nigeria.
Ekezie left his professional basketball career after noticing the growing opportunities in Africa and while struggling to book a ticket back home to Nigeria, he saw  the need to bring the same kind of ease he was used to home from the West.
"I saw the opportunity to build and online travel company in Nigeria and I thought it was going to be huge because I knew that Nigerians travelled a lot, there was no transparency in the travel industry," he said.Ekezie felt the process was "archaic", he couldn't get enough information regarding the price options and he couldn't pay online but at the bank or the airline's office. He figured bringing such ease home would be a lucrative space to go into and decided to retire from basketball.
He owes a lot of his initial success to CNBC Africa, after the channel featured his company, he was contacted by his first investor.
"He contacted me on LinkedIn and we started to have a conversation, I didn't know who they were, they just told me he had heard about what we were doing in Nigeria and that he was interested in a little bit more."
Eventually this led to his company getting one of its first investors. "Since we came to the business, we are now the largest travel portal in Nigeria in terms of the bookings, all services from flights to hotels to travel insurance."
Wakanow.com wasn't his first attempt at entrepreneurship; his first try at the online travel business was unsuccessful. Ekezie believes that business failed mostly because he had the wrong partner, and that is the difference in this business's success.
"I couldn't ask for a better partner, someone that has the vision that I had and has determination, the work ethic, the discipline to work every day to achieve the goals we are trying to achieve on a daily basis"
He added: "We have very strong people that are doing a very good job in making sure that our core values when it comes to customer services is going to improve every day."
Wakanow.com keeps innovating and has plans to expand further into Africa and internationally.
"We are expanding across Africa, we plan to be in about 22 African countries in the next three years, we are expanding globally to other key markets, the UK, the US and the middle east – Dubai, UAE so there's a lot of work that has been done, so we need people that are dedicated and are ready to do that," said Ekezie.
The online bookings company is focused on domestic an outbound travel and is now looking to do inbound travel.
"We are working very hard to build a platform that is going to enable travellers to come into African destinations not just foreigners – we are looking to expose Africa to Africans because there is a lot of work that needs to be done in exposing the interest in African destinations and their tourism assets,"
The booking company is also working on a travel show called Destination Africa that will be shot in about 22 African countries, reflecting each country's tourism destinations so people can visualise what they could experience in these places.
As part of their expansion, they have also included bus companies onto the platform.
"We were very excited about that because over 70 million Nigerians travel by bus, whether its interstate or regional and we think there is a huge opportunity there to be able to emigrate all these three services, ticketing, charter services and cargo services – consolidated on an online platform."
It was important to Ekezie to represent the continent by naming the company something African,
"Waka means move or travel and we want to move now."
*Source CNBC Africa
Comments
comments