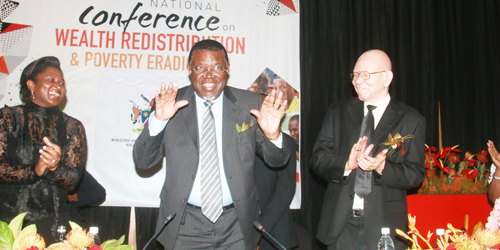 President Hage Geingob has urged government to move away from the study loan system, whereby students have to pay back their loans, to a system of grants that would enable students to immediately build up wealth portfolios instead of going into debt after graduation.
At one stage graduates owed the Namibia Student Financial Assistance Fund (NSFAF) up to N$300 million in unpaid study loans, something that the president wants addressed through a grant system.
"Going forward, we should move away from loans to a grant system. It was not there [before], it was introduced by someone. We should give children grants, so they don't graduate in debt," he advised. President Geingob's suggestion is in line with his call for concerted efforts to fight poverty in the country.
Currently all courses in Namibia's tertiary institutions, irrespective of their status, are offered at a cost in terms of tuition and other fees.
Many students, who get the chance to enter tertiary institutions with grades of 25 points and above, stand a chance to be awarded loans and scholarships through the NSFAF.
However, it comes at a high cost, as they have to re-pay such loans upon completion of their stduies.
Geingob, who officially opened the two-day National Conference on Wealth Redistribution and Poverty Eradication in Windhoek yesterday, said education remains the greatest equaliser.
"We removed school fees at primary level in 2012 and this year we are going to introduce free secondary school education. At the moment, large subsidies to our local tertiary education institutions translate into the State covering up to 80 percent of university costs. University students also benefit from scholarships through the NSFAF," he noted.
He also took the opportunity to defend the pledge of 20 percent of his salary to set up a scholarship fund for impoverished children, as a practical means to fight poverty.
Geingob's announcement of his decision to pledge one-fifth of his salary to the poor, produced mixed responses among the public, with some – including opposition parties – criticising the move, while others applauded him for it.
"What's your problem? It's not your salary. I'm not asking yours. I'm talking about my salary. A person is saying, 'I'm going to give 20 percent of his salary', and then they say 'why not 50 percent?' It's not taxpayers' money, it's mine. So please, leave me alone," Geingob said.
He said he is mindful that many salary drawers already contribute immensely to poverty reduction in their own extended families and communities, whether by providing food, accommodation or paying school fees.
"It is something I also do as a father and uncle. However, the idea of pledging on top of that to someone outside the family, a third non-related person is something that I would like to promote.
"It is really not about how much one can give, but it is about the principle… and one can always give in non-monetary form. We must allow the spirit of Harambee to manifest itself for the good of all Namibians," he maintained.
Harambee is a tradition of community self-help actions and means to "all pull together" in Swahili.
*Source The Era
Comments
comments