* Head of Gbagbo's FPI seeks to revive party
* Party hardliners break away, call poll boycott
* Struggle will determine future role of opposition
By Joe Bavier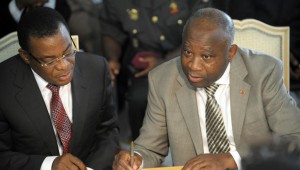 ABIDJAN, Sept 2 (Reuters) – Two years ago, Pascal Affi N'Guessan was in jail after backing the losing side in Ivory Coast's civil war. Now he is running for president, provoking a power struggle within the opposition whose outcome will help decide the country's future stability.
While N'Guessan appears likely to lose in October, the fact that the former prime minister is even contesting the election for the main opposition Ivorian Popular Front (FPI) ought to mark a step towards national reconciliation.
But the party's founder, former president Laurent Gbagbo, is awaiting trial in The Hague over his role in the 2011 war, and FPI hardliners have called for an election boycott, which would be the party's third in the past four years.
Under the incumbent President Alassane Ouattara, Ivory Coast is emerging as one of Africa's star economies, but it also needs a credible election and political calm to maintain the revival.
Support for the FPI remains relatively strong. Thousands of supporters, some waving signs reading "Affi President" and wearing pink and blue shirts emblazoned with his face, turned out last month to anoint N'Guessan as the FPI's candidate.
"We cannot remain eternally absent from political competition or we risk disappearing," the 62-year-old N'Guessan told Reuters. "If a party doesn't participate in elections, it has no reason to exist," he told Reuters.
Gbagbo's refusal to stand aside after losing the last presidential election in 2010 led to the civil war, in which more than 3,000 people were killed. This ended after the victor, Ouattara, was installed in power with French support the following year.
The largest economy in French-speaking West Africa has grown by 9 percent annually for the past three years, helping to make Ouattara the runaway favourite for re-election.
Hotels are mushrooming to accommodate an influx of business travellers to the commercial capital, Abidjan, along with supermarkets, including France's Carrefour, catering to the region's largest middle class.
But political reconciliation has moved at a crawl. The FPI says hundreds of Gbagbo supporters remain political prisoners, while tens of thousands of people displaced by the war live as refugees in neighbouring countries.
BOYCOTT MENACE
N'Guessan's Abidjan house still bears the scars of the conflict. Graffiti scrawled by pro-Ouattara soldiers remains in a dark back stairwell, and he returned home to find a 6-metre (20-foot) pit in the atrium which they had dug, looking for guns and money.
Nonetheless, N'Guessan has largely abandoned the rhetoric of the crisis for a more moderate tone, hoping to reposition his party. "I proposed and continue to follow the path towards reconciliation, because the country has already suffered too much," he said.
A sizeable FPI faction led by former foreign minister Aboudramane Sangare is not so ready to leave the past behind.
"Just because there's no more bombing and no more shooting every day, doesn't mean the crisis is over," said Boubacar Kone, a spokesman for Sangare's faction, who still describes Ouattara's election as a "coup d'etat".
Due to the FPI boycotts, Ivory Coast's parliament is dominated by Ouattara allies. Now the president needs peaceful and credible presidential elections contested by viable opponents to turn the page on the war, buttress his legitimacy and ease the minds of investors.
Hoping to foster reconciliation, the government released dozens of FPI prisoners – including N'Guessan in 2013 – as well as unfreezing their bank accounts and restoring their property.
Sangare's faction says Ouattara favoured FPI moderates and accuse him of creating a toothless opposition that might lend the polls credibility but won't mount a serious challenge.
Hardliners see N'Guessan as Ouattara's straw man, pointing to the trial of 83 Gbagbo allies accused of crimes committed during the war. Sangare was handed a five-year prison sentence in March, though he remains free pending a detention order. N'Guessan got only 18 months and was credited with time served earlier, meaning he will not return to prison.
N'Guessan also won court decisions blocking attempts by the hardliners to strip him of the party presidency. Today, the two factions have rival leadership structures.
"Of course, he's with (Ouattara)," Kone said, accusing N'Guessan of "working against the party".
FIGHT FOR THE FUTURE
While analysts give N'Guessan little chance of winning the presidency, his party could gain a strong voice in the National Assembly in parliamentary elections next year.
Even in defeat, Gbagbo won 46 percent of the vote in the 2010 run-off against Ouattara. N'Guessan will look to mobilise those supporters, but the split complicates his task.
"Given the label of traitor that the Sangare faction has pinned on him, I'm wondering if that will not be a millstone around his neck," said Lori-Anne Theroux-Benoni, head of the Institute for Security Studies' West Africa office.
A well-supported boycott would be another setback for national reconciliation by excluding Gbagbo's supporters from the political process. It could also embolden the hardliners in their withdrawal from the mainstream, a risky prospect given the country's history of violence.
After the war, exiled Gbagbo allies in neighbouring Ghana were behind months of attacks in Abidjan and along the border that began in late 2012, according to a U.N. panel of experts.
N'Guessan believes the worst can be avoided and said some Sangare backers have begun to return to the fold. "Their place is here in the heart of the party. I am optimistic that before October we will all be back together and continue the struggle to serve our country," he said.
*Source Reuters
Comments
comments