By Francis Emorut
Journalists were left awed by the female condom during a demonstration on how its used.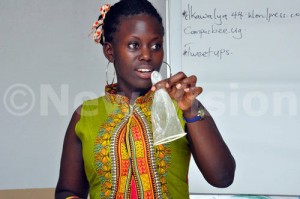 Awed by the cylindrical shaped rubber, journalists were visibly shocked because they were seeing it for the first time.
This was during the closing of media and sexuality training hosted by RHU at Eureka Place Hotel on Friday.
Priscilla Nabatanzi, one of the facilitators demonstrated to mesmerised journalists how the female condom is nipped at its top before inserting into the woman's sexual organ.
She cautioned that extra care should be taken to avoid puncturing the condom during insertion.
She emphasized the use of only two fingers when inserting.
At the worskhop, media practitioners were also encouraged to advocate for change of bad policies and giving the voice to voiceless.
"The media should advocate for change of bad policies for the betterment of society," Zaintuni Nabateregga, team leader training and development at Straight Talk Foundation, said
She implored the media to focus their attention in advocating for fairness and justice, bringing pressing issues to light, giving the voice to the voiceless and promoting accountability and good governance.
Alex Kiwanuka, the youth officer in charge of Reproductive Health Uganda (RHU) warned the media against portraying women and girls as sexual objects.
To drive his point home newspapers of various media houses were distributed to media practitioners and they were asked to cut out articles and pictures related to sexual issues.
Journalists were encouraged to use  social media for breaking news.
Sam Bannz, a blogger, noted that people pick interest in social media because it provides information in real time.
He said because you are breaking news  the effect is that you will pull out or attract a number of followers who will be following your hashtag.
"You no longer need to pile newspapers as you can access them online," Bannz said.
A social media advocate, Kenneth Kintu, explained that the social media is a game changer for businesses engaged in marketing, sales and customer service.
He said 93%of marketers use social media for business.
Kintu pointed out that 1 million new blogs are created on online every month.
"It's the biggest shift since the industrial revolution," Kintu said.
He said in Uganda the social media communication channel that is gaining popularity is twitter as many users are shifting from Facebook.
*Source NewVision
Comments
comments