By Ajong Mbapndah L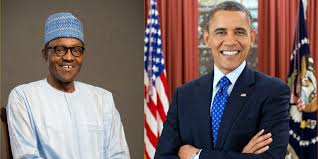 Still basking in the glory of his ground breaking victory at the last Nigerian Presidential elections, Muhammadu Buhari is taking the parade to Washington,DC where he will meet with US President Barack Obama, Secretary of State John Kerry, Treasury Secretary Jack Lew and a number  of other senior political and military officials including General Martin Dempsey.
In a conference call with reporters ahead of the visit, Special Assistant to the President  and  Senior Director for Africa at the National Security Council,,Grant Harris  harped on the long standing and historic nature of relations between his country and Nigeria. Harris lauded the elections that brought Buhari to power and indicated that the USA believes he has the right agenda for Nigeria at the right. The visit will be about exploring ways that the US can help President Buhari confront the myriad of challenges facing Nigeria head on.
https://soundcloud.com/multimedia-podcast/white-house-briefing-on-visit-of-nigerian-president-buhari-to-washington
President Buhari will be hosted at the White House on Monday ,June 20, and it is expected that there will be broad discussions on security and the fight against Boko Haram, Energy, fighting corruption and how to improve on the quality of life for all Nigerians. Harris said Buhari's visit follows an invitation President Obama extended to him after he won the hotly contested elections in Nigeria. On why President Obama could not use the opportunity of his next trip to Africa to visit Nigeria, Harris said Buhari's presence in the USA will also offer the opportunity for him to meet with other Administration Officials who may not travel with Obama.
Refusing to caution the notion that former President Goodluck Jonathan had fallen out of favor prior to his defeat in elections, Harris maintained that the relations with him were equally cordial and he had the opportunity to meet the US President several times. Nigeria has a new President now and the US is committed to working with him to address the serious challenges facing Nigeria he said.
Elected Presidents in Africa are not typically invited to Washington with the kind of rapidity surrounding Buhari's visit. The US invested heavily in the elections with Secretary of State John Kerry traveling to Nigeria to meet with then President Goodluck Jonathan and opposition challenger and now President Buhari. Ahead of the elections, President Obama recorded a special you tube message to Nigerians calling for peaceful elections, while Assistant Secretary for African Affairs at the State Department Linda Greenfield led a high profile observer mission for the elections. At his Buhari's inauguration as President, Secretary of State John Kerry led the US Delegation.
Already in his second month in Office, President Buhari is still to appoint Ministers to assist him in the task of fulfilling the lofty campaign promises that earned him the trust of the Nigerian electorate.
Comments
comments