By Jenny Lei Ravelo*
Nigeria just simultaneously lost its agriculture minister and gained its first African Development Bank president.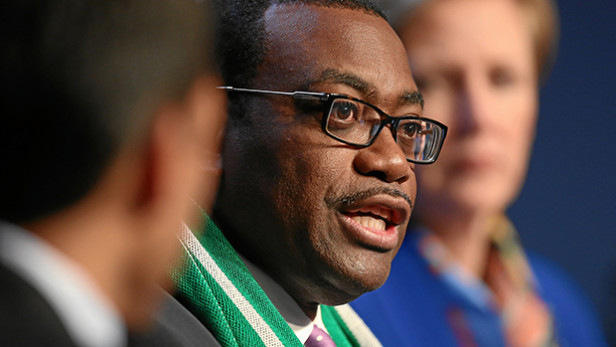 After more than five hours of anticipation and frenzy over social media on Thursday, Africa's leading development finance institution announced its new president: Akinwumi Adesina, the man known for his colorful bow ties.
It was no straightforward win for Adesina, who has served for the past five years as Nigeria's minister of agriculture and rural development. He was up against Thomas Sakala, former vice president at the bank who had the backing of the Southern African Development Community.
Lone female candidate Cristina Duarte of Cape Verde also proved to be tough competition. Although she was rumored to have dropped out of the race early on, she remained in the top three contenders, while Sufian Ahmed, Africa's longest-serving finance minister and a favorite for the role, was surprisingly eliminated second.
Some experts predicted Adesina would follow the way of past Nigerian candidates. Abuja, despite having the largest voting power at the bank, has never succeeded in sitting one of its own at the institution. In 2005, outgoing President Donald Kaberuka from Rwanda defeated Nigerian candidate Olabisi Ogunjobi, who was also a former vice president at the bank.
But Adesina was a clear crowd favorite, and any support he lacked geographically, he made up for on social media. As of publication of this article, Adesina already has more than 13,000 Twitter followers — and counting.
Many were impressed with his credentials and achievements — Forbes' 2013 Person of the Year title among them. But it was action, too, that got him noticed. In just under four years in his role as minister of agriculture, he was able to introduce an agribusiness facility in Nigeria that encouraged banks to increase their agricultural lending, and a system that helped curbed huge corruption in the fertilizer industry.
The question now is how successful he will be in translating these accomplishments to the bureaucracy of one of the world's largest multilateral development banks. One area the bank continues to struggle with is the speed with which it's able to disburse money following project approval.
In his vision, Adesina pledged to prioritize small- and medium-sized enterprises as he puts in place plans to grow the bank's private sector operations, make infrastructure lending more integrated instead of "opportunistic or isolated, one-off infrastructure investments" and mainstream job creation for youth and women across the bank's operations, among others.
It won't be easy. As Kaberuka, who will be officially leaving the job by the end of August, said in his opening statement at this week's annual meetings, the job is "complex and merciless" — although also exciting — and there will be "many inevitable moments of frustration."
But Adesina, in the first few minutes of his victory, already made a promise: "I will not let you down."
*Source DEVEX
Comments
comments