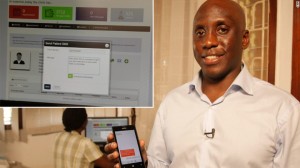 Many African entrepreneurs have partnered with government officials across the continent in the development of mobile and web interfaces to combat the continent's healthcare deficiencies.  Rural regions suffer most from substandard health care due to lack of information and distance from major urban health centers, and a cadre of young African entrepreneurs are working to rectify this trend.
For example in Uganda, Kaak Yelpaala (pictured above), a former employee of the Clinton Health Access Initiative, has created a mobile tech company called "Access Mobile." The company's first application "Clinic Communicator" creates an innovative patient-doctor interface. Patients and healthcare providers can create and cancel appointments on mobile and web platforms. This innovation provides broader and more efficient access to healthcare throughout rural and urban Uganda.
While in Cameroon, Alain Nteff's mobile platform 'Gifted Mom' addresses women's health concerns such as pre- and post-natal care. The application uses low-cost SMS to connect rural women to urban health centers which provide information for management of pregnancies and care of newborns. The application also sponsors teen and sex health education, child vaccine tracking, and family planning/contraception campaigns.
Also in Cameroon, IT specialist Arthur Zang (pictured left) is the creator of central Africa's first medical tablet that revolutionizes the communication of diagnostics. The tablet comes with an accompanying kit which measures electrocardiograms. The kit also sends the results via mobile phone connection to a central service, which diagnoses the readings and returns the data with treatment plans and prescription information.
Zang's next project will be the creation of a nationwide network of hospitals and cardiologist data-sharing services. His company also is working on developing a series of medical devices such as ultrasound equipment and medical emergency alert systems.  He asserts, "We have to think very big, we have to think Pan-African, and we have to think about how we can innovate for the world."
*Source Africa Update
Comments
comments