By Zacheaus Somorin with Agency Report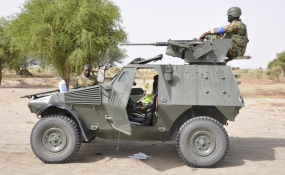 Relations between American military trainers and specialists advising the Nigerian military in the fight against Boko Haram are so strained that the Pentagon often bypasses the Nigerian military altogether, choosing to work instead with security officials in the neighbouring countries of Chad, Cameroun and Niger, the New York Times, in a report at the weekend, quoted US defence officials and diplomats as stating.
Major rifts like these between the Nigerian and American militaries have been hampering the fight against Boko Haram militants as they charge through North-eastern Nigeria, razing villages, abducting children and forcing tens of thousands of people to flee.
US Secretary of State, John Kerry, was in Nigeria on Sunday to meet with President Goodluck Jonathan and Major-General Muhammadu Buhari, the two leading candidates in the presidential election, and the Pentagon said that the Nigerian Army is still an important ally in the region – vital to checking Boko Haram before it transforms into a larger, and possibly more transnational threat.
"In some respects, they look like ISIL two years ago," Michael G. Vickers, the undersecretary of defence for intelligence, told the Atlantic Council last week, using another name for the militant group known as the Islamic State.
"How fast their trajectory can go up is something we're paying a lot of attention to. But certainly in their area, they're wreaking a lot of destruction."
But US officials are wary of the Nigerian military as well, citing corruption and sweeping human rights abuses by its soldiers. US officials have also been hesitant to share intelligence with the Nigerian military because they contend it has been infiltrated by Boko Haram, an accusation that has prompted indignation from Nigeria.
"We don't have a foundation for what I would call a good partnership right now," said a senior military official with the United States Africa Command, or Africom, who spoke on the condition of anonymity because he was not authorised to speak publicly on the matter.
"We want a relationship based on trust, but you have to be able to see yourself. And they're in denial."
The US was so concerned about Boko Haram infiltration that American officials have not included raw data in intelligence they have provided Nigeria, worried that their sources would be compromised.
In retaliation, Nigeria in December cancelled the last stage of American training of a newly created Nigerian Army battalion. There has been no resumption of the training since then. Some Nigerian officials have also expressed dismay that relations between the two militaries have frayed to this point.
"For a small country like Chad or Cameroun to come to assist" the Americans, "that is disappointing," said Ahmed Zanna, a senator from Borno State, the epicentre of the Boko Haram insurgency.
"You have a very good and reliable ally, and you are running away from them," he said, faulting the Nigerian government. "It is terrible. I pray for a change of government."
The tensions have been mounting for years. In their battle against Boko Haram, Nigerian troops were alleged to have rounded up and killed young men in northern cities indiscriminately, rampaged through neighbourhoods and, according to witnesses and local officials, killed scores of civilians in a retaliatory massacre in a village (Baga) in 2013.
Refugees said the soldiers set fire to homes, shot residents and caused panicked people to flee into the waters of Lake Chad, where some drowned.
Comments
comments