By Ajong Mbapndah L
U.S President Barack Obama has hailed Nigerians for turning out in large numbers for the recent elections which saw the emergence of the opposition's Muhamadu Buhari as the country's next leader.
"The last few days have shown the world the strength of Nigeria's commitment to democratic principles," Obama said in a statement released by the White House on April 1, 2015.
Obama commended President Goodluck Jonathan and President elect Buhari for their public commitments to non –violence throughout the campaign. Saluting the courage of President Jonathan, Obama said he placed country first by conceding the election and calling to congratulate President elect Buhari.
Obama described Jonathan's conduct as statesmanlike at a critical point in Nigeria's history while thanking him for his many years of service.  Echoing earlier messages, Obama urged Jonathan and Buhari to repeat calls to their supporters to respect election outcomes, focus on unifying Nigeria and leading the country through a peaceful transition.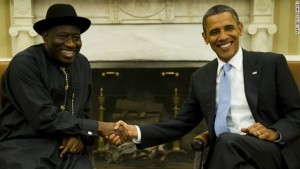 Nigeria's Independent Electoral Commission and its Chairman Attahiru Jega equally deserve special recognition for what independent observers have deemed a peaceful and orderly vote, President Obama said in his statement.  INEC's efforts had increased credibility and transparency in the electoral process ,said Obama. He urged national attention to ensure logistical challenges are overcome and peace is protected.
The Nigerian elections drew keen attention from the US. In January, Secretary of State John Kerry was in Nigeria where he met with President Jonathan and challenger Buhari. Ahead of the elections, Obama also released a video message calling on Nigerians to shun violence. Assistant Secretary of State for African Affairs Linda Thomas Greenfield was in Nigeria leading a team of US officials to observe the elections.
Comments
comments