CHALLENGE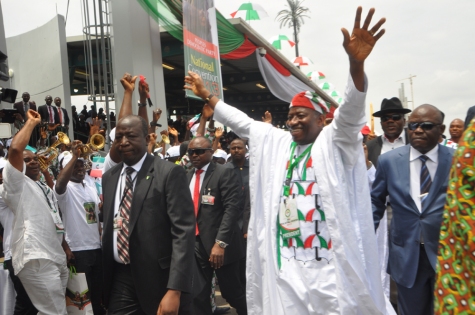 PDP USA stand together for a transparent, free, fair and peaceful electoral process at the local, state and federal levels and violence-free before, during and after the elections. We believe in unity, development, purposeful and visionary change in Nigeria through meaningful political actions. Our unique place in the diaspora to see events in the country from an outside-the-box perspective enables us to give unbiased assessment of our stewardship, and then ask the critical and thought-provoking question: Is the cup half full or half empty?
That said, we cannot seat idly by while our house is on fire. The coming presidential and congressional elections in Nigeria on February 14 are perhaps different due to many contentious issues in the country, and we have thus resolved to be heard loud and clear.
Our members in the US diaspora stand in solidarity with the home front, and are pleased to challenge the good people of Nigeria. We more especially implore our president Honorable Dr. Goodluck Jonathan to speak openly, clearly and directly to Nigerians on the burning and contemporary issues of the day and new plans for a governing reform agenda.
We acknowledge and celebrate the many achievements, some not so obvious, of Presidential Jonathan's administration that have brought change, joy and smiles to many Nigerians, as well as recognize the failings of immense proportions that, all too often, are overlooked and yet ail many Nigerians. We would differ with fellow compatriots who may attempt to sugar coat them for parochial reasons.
WHY A VOTE FOR PRESIDENT JONATHAN 2nd TERM IS A VOTE FOR CONTINUITY:
• National Power Reform is on course and services are showing measurable improvements as of today
• Development progress in the affordable housing mandate for low and middle income families
• Agriculture expansion and rural development that now contributes up to 26% of our national Gross Domestic Product – GDP
• State-of –Arts continuing progress in the rehabilitation of national Railway Networks across the country
• Established 9 new federal universities and rehabilitated existing universities and teaching hospitals
• Agriculture sector growth with new farm silos, improved export of produce, subsidized agricultural products, improved seedlings and modern irrigation systems
• Multi-level vocational and skills training institutes to create new jobs
• Upgrade of old airports and construction of new airport terminal
• Road networks and rehabilitation of highways – 32 highways and 651 Km roads completed
• E-collect systems for fertilizer distribution of agricultural inputs and products nationwide
• Federal primary health centers established for improved healthcare delivery
• Major erosion and flood control projects, flood victims resettlement
• Dredging of river ways for construction of new river jetties and waterways for movement of goods and services
• Solar powered portable water purification and supply for rural communities
• Renewed vigor in security measures underway to combat Boko Haram with a better equipped and motivated military in cooperation with France and ECOWAS community states
VOTE FOR A SECOND TERM CHANGE YOU CAN COUNT ON:
Presidential Executive Actions to Effect Desired Changes in Economic and Governing Reform Agenda
• Aggressively prosecute corrupt public officers and expose any public corruption
• Improve responsible governance and emphasize probity in the various organs of government
• Hold contractors accountable to complete roads and bridge projects awarded in the first term
• Curtail the excesses of government roles esp. in absolute power
• Rein in the excesses of first ladies in politics but women empowerment
• Encourage more accountability and control the arbitrary use of security votes by state governors and federal ministers
• Streamline the excessive budget of the National Assembly – the Senate and House of Representatives
• Urgently improve national security, stop Boko Haram by a newly invigorated and better equipped military, with the support of a competent internationally acclaimed contract private security militia.
• Give periodic State of Affairs on the economic and social health of the country
• Ensure payment of pensions, salaries and benefits of workers
• Guarantee that Fuel prices at the pump reflect the new realities of today's lower crude oil prices
• Complete rehabilitation of the remaining dilapidated highways in the country
• Create more apprenticeship centers, young business incubators and vocational training centers for the creation of new jobs and start-up small businesses
• Monitor and eradicate crude oil pilfering and sale receipt losses by introducing fool-proof accounting standards in the system, and implementing inviolable sovereign fund savings for the future generations of Nigerians
• Implement a major governing reform and to form a highly visionary Dream Team government of technocrats
These are profound statements for well-intended actions of national interest, and PDP USA pledges to use all the levers of the international community to encourage and support our President Goodluck Jonathan's second term administration to live up to the tenets of this agenda for the good of Nigeria.
There is still work to be done and Nigerians are becoming increasingly apathetic and untrusting of their government. They are hungry for a meaningful change through a strong, purposeful and visionary leadership of the PDP.
The truth will make us whole and set us free, and by the grace of GOD we shall win!!!
We trust in one and great Nigeria. PDP! PDP!! PDP!!!………Long Live Nigeria!!! Forward ever!!!
Signed: PDP USA Rapid Response/Strategic Committee:
Hon. Dr. Harold Molokwu, Chairman PDP USA
Hon. Dr. Akin Awofolaju – Chairman, Rapid Response/Strategic Committee
Hon. Ms. Tai Aladefa Olowu – Secretary
Hon. Franklin Afam Nwandu – member
Hon. Emmanuel Akorede – member
Hon. Engr Paul Ogedegbe – member
Hon. Muharija Gadah – member
Hon. Uzoma Nwachukwu – member
Hon. Clementine Cain – member
Hon. Dr. Ego Amake – member
Hon. Chief Gabby Ayo – member
*Sponsored Content From PDP USA
Comments
comments