By Ajong Mbapndah L*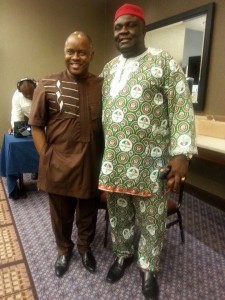 Down but not out was the mood in Chicago at a recent Investment Forum hosted by the former ruling PDP in Nigeria. Led by Dr Harold Molokwu, the mood was rather upbeat at the event with die hard militants like Dr Oyewo, Rev Oba Light, Adebayo and Omotunde Babawande ,Hon Patrick G.Utin and many others indicating that Nigeria comes first before any political party .
The forum which took place at the Hyatt Regency hotel saw the participation of delegates from about a dozen states and Dr Elijah Akpan Executive Chairman of the Akwa Ibom Investment Corporation and a number of investors. PDP Officials from Nigeria conferenced in and responded to questions from some of the participants at the forum.
To Harold Molokwu, Chairman of the PDP in USA, it was all about putting Nigeria first, citing the graciousness with which former President Goodluck Jonathan embraced defeat. With the right lessons and proper stock taking, the PDP will bounce back stronger Molokwu said, saluting the steadfastness of party faithfuls in weathering the recent change of fortunes for the party.
For the PDP to move forward, things have to change Molokwu said. Been in the opposition is the time to count the true militants of the party , learn from mistakes and in states where the  PDP is in control to improve on delivery of services so as to regain the confidence of the people.
https://soundcloud.com/multimedia-podcast/dr-harold-molokwu-interview
As impressive as the turnout was, not all PDP chapters in the USA were represented, nor did all the officials for Nigeria turn out. While it was expected that some militants will become luke warm, Dr Molokwu said  there were all indications that the party was still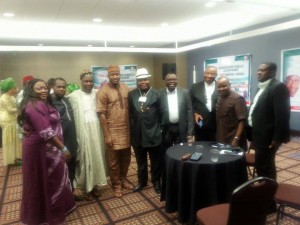 waxing strong in the USA. Elections are over for now, he said, and his party needs to scout for opportunities which benefit all Nigerians, reason why there had the investment forum. More of such events will be held across the USA to empower Nigerians and market the huge investment opportunities in the country to potential investors, he said.
While been in the opposition maybe far from an enviable position, Dr Molokwu believes that the time to measure true militants of the party has come. "Write the PDP off at your own peril," he said expressing strong optimism that the party will bounce back stronger and faster than some might think.
It was not all about partisan politics as the two day event provided interesting avenues for investors to network and explore business prospects.
Comments
comments