Hopes his financial background will provide solutions to Benin's poverty
By SIMON CLARK*
Mitt Romney says he won't run for president again, but half a world away another private-equity executive is taking a shot.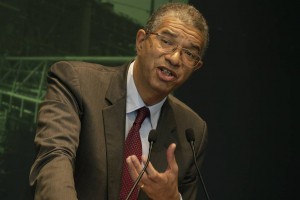 Lionel Zinsou, who stepped down this summer as chief executive of French private-equity firm PAI Partners, will run for president of the impoverished West African nation of Benin, he said in an interview on Wednesday.
Mr. Zinsou in July was named prime minister of Benin, an unelected post that in recent years has been only sporadically occupied. The presidency is the most powerful office.
Mr. Zinsou, 61, reckons his private-equity credentials will serve him well in African politics, with investment capital scarce on the continent. That wasn't the case for Mr. Romney. He was widely criticized during his U.S. presidential election run in 2012 for appearing to care more about wealthier Americans and being out of touch with poorer citizens. The perception was strengthened by his comment that it wasn't his "job" to worry about the "47%" of Americans who receive government benefits.
"Private equity could well be—and it would be the reverse of the U.S.A.—could well be perceived as a sort of public service," Mr. Zinsou said in an interview in London. "It is maybe the only continent where it's not unpopular as wild capitalism."
Mr. Zinsou, a citizen of France and Benin, said he will draw on his business experience to reform Benin's economy to boost jobs and incomes for the poorest. He wants to provide solar power and financing to rural communities and improve telecommunications.
Benin is among the world's poorest countries, with 10.6 million citizens earning $810 each a year on average. "For the bottom 10% there is absolutely no automatic impact of growth on their lives," Mr. Zinsou said. "We can reach out to the poorest, provided that we target policies just dedicated to them."
Africa's high-risk markets have started to draw investment from the world's biggest private-equity firms, including Carlyle Group, KKR & Co. and Blackstone Group LP. While the continent accounted for just 1.47% of the $438 billion of private-equity deals in 2014, last year's $6 billion of African deals was almost triple 2013's total, according to research group Preqin.
"People hate private equity because they don't know private equity. They think it's short-termism, it's wild, wild capitalism," Mr. Zinsou said. "I am a bit protected because in Africa, I think, it is an exception. We so much need equity capital, financing, funding, that it is the only continent where I think it is very, very popular."
Mr. Zinsou was in London to speak at the Global African Investment Summit. Political leaders including former Nigerian President Olusegun Obasanjo said at the summit that the continent needs more foreign investment to create jobs that will help reduce the tide of migrants leaving for Europe.
Traditionally known as an exporter of cotton, Benin must focus more on adding value to agricultural products to meet domestic demand for food, Mr. Zinsou said. He also said he wants to position the country as a hub for financial, logistics and communications services for neighboring Nigeria and Niger.
Mr. Zinsou, whose uncle was Benin's president in the 1960s, started his career as an economics lecturer in Paris before working for the French government and food company Danone SA. He joined PAI from investment bank Rothschild in 2008. He has an arts foundation in Benin.
Mr. Zinsou said that if he doesn't get elected he plans to return to PAI to raise a new fund to invest in Africa.
*Source WSJ
Comments
comments