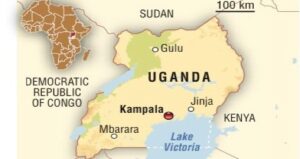 A consortium led by Russian firm RT Global Resources won the deal to build and operate Uganda's $2.5 billion crude oil refinery, the Daily Monitor newspaper reported on Tuesday.
The east African nation plans to build the refinery to process its hydrocarbon reserves, which were discovered along its border with the Democratic Republic of Congo in 2006.
Reserves are estimated by the government's geologists at 6.5 billion barrels.
The Daily Monitor, which is Uganda's largest independent daily, cited unnamed sources in its report.
An official in Uganda's ministry of energy told Reuters a formal announcement of the winner was to be made later on Tuesday.
RT Global Resources, owned by Russia's defence conglomerate Rostec, is leading the consortium which also includes Russian oil producer Tatneft, VTB Capital, the investment banking unit of Russia's No. 2 bank VTB, and South Korea's GS.
The facility, to be developed in phases, is expected to have final output capacity of 60,000 barrels per day, but will start with 30,000 barrels per day capacity.
Britain's Tullow Oil, French oil major Total and China National Offshore Oil Corporation (CNOOC) are developing Uganda's fields.
Comments
comments