By Harold Molokwu*

As his first term has shown, President Goodluck Ebele Jonathan is transforming Nigeria from a country maligned for its corruption and religious tension into an anchor nation for Africa's economic and social growth. But his work is far from complete. To finish his noble mission, he needs the support of all Nigerians.
He needs you to elect him on Feb. 14 to a second term.
President Jonathan is a humble man. That humility stems from his humble upbringing. That upbringing, in turn, has propelled him to embark on his visionary Transformation Agenda for Nigeria.
If re-elected, President Jonathan will continue to pursue his Transformation Agenda, which includes boosting Nigeria's power supply, revamping the agricultural sector, reforming the oil industry, reforming the legal system – and most importantly, creating jobs for young Nigerians. Under his guidance, Nigeria has begun seeing investment from multinational companies such as Nissan Motor Co., General Electric Co. and Procter & Gamble. Moreover, Nigeria has begun keeping youth unemployment records, so that our government can develop job training strategies for our country's young people. During his second term, President Jonathan will see that our monitoring system continues to be evaluated and improved – and his administration will continue to develop youth job creation programs.
Under President Jonathan's guidance, Nigeria also has begun to make improvements to its educational system. This is evident in the sponsorship his administration has provided toward construction of schools, the granting of educational licenses for expanding public and private education and the implementation of the girls education programs in Adamawa, Akwa Ibom, Delta, Ebonyi, Ekiti, Nasarawa, Yobe and Zamfara States. In Sokoto State, his administration also introduced the Almajiri Education Program as a way to curb street begging by school-age children. Those implementations were unprecedented. Under President Jonathan's continued leadership, innovations in education will continue.
But for our country to be competitive in the global economy, more must be done – and President Jonathan understands this. Being college educated, he understands the importance of top-tiered universities in creating jobs – and in producing ideas that promote progress. As an international leader, he understands that Nigeria still needs to develop a university system that attracts the brightest students and teachers from around the world. Rest assured, during his second term, President Jonathan will work to transform Nigeria's universities from schools that have not adequately trained its graduates into schools deserving of being included on U.S. News and World Report's list of Top 500 Best Global Universities.
President Jonathan also understands it is difficult to attract the world's brightest minds to Nigeria if people do not feel safe here. That is why, during his second term, he is committed to ending the atrocities committed by extreme terrorists. On Jan. 15, President Jonathan showed his sense of commitment when he visited Maiduguri, where thousands have lost their homes because of extremist-related violence. The president met with victims of the violence and assured them that his government would help them in their recovery. He assured our noble soldiers that his administration would continue to give them the logistical and financial support necessary to successfully fight terrorism and bring peace to Borno State.
With less than a month before the presidential election, some skeptics – particularly APC supporters – might see the president's visit as a campaign ploy. It is not. If it were, he would have announced boldly that he was visiting Borno State. Instead, his visit was unexpected. Clearly, the president wanted to keep his re-election business separate from the more important issue of regional security.
Once the votes are tallied and he is re-elected, President Jonathan will make additional trips to Borno State. He will make trips to other regions where terrorists try to disrupt Nigerian democracy. He will make those trips because he is committed to transforming Nigeria into a safe haven for all.
For people to feel safe in Nigeria, they also must be healthy in Nigeria. Sadly, for many decades, health issues have plagued Nigeria. One of them has been our contaminated water. During his first term, President Jonathan has shown his commitment to ensuring that all Nigerians – regardless of religion or ethnicity – have access to drinking water, the source of life on Earth. He has, for example, been outspoken in supporting the United Nations' 2010 Right to Water Resolution. And do not forget that President Jonathan organized the Presidential Water Summit in February 2014 to work to ensure Nigerians' accessibility to safe drinking water and to help preserve our country's water resources. He also has worked to fight flooding in our country. He will continue this fight – and the fight to make water accessible – after his re-election.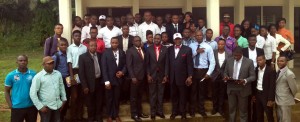 Improving accessibility has been a cornerstone of President Jonathan's first term, ranging from the accessibility to natural or educational resources (as mentioned above) to the accessibility of involvement with our country's political system. This is clear when one considers the president's successful introduction of the Gender Policy. During its first two years alone, the government saw a 23 percent leap in total female government representatives. Under his continued leadership, our vibrant, intelligent women will continue to receive appointments to important ministerial posts.
President Jonathan has been supportive of women in other ways. Through his Women's Fund for Economic Empowerment and Business Development Fund for Women initiatives, he has made it easier for women entrepreneurs to secure the necessary capital to establish the businesses that will help Nigeria to build and flex its economic muscle – muscle that was evident when the International Monetary Fund predicted Nigeria would experience 6.7 percent economic growth in 2013 and 7.3 percent in 2014. He will nurture those initiatives and introduce others in the years to come.
Since achieving independence in 1960, Nigeria has transformed itself. It has gradually transformed itself from a British colony into a functioning independent country. It has gradually transformed itself from a country plagued by militarism into one guided by the stability of democracy. Under President Jonathan, that transformation has continued – a transformation that has included creating a robust Nigerian economy that has outpaced even South Africa.
The transformation must continue. That is why PDP USA proudly endorses Goodluck Ebele Jonathan, a reformer and listener, for a second four-year term as Nigeria's president and commander-in-chief of the armed forces.
Remember to get your voter's registration card, so you can participate in the upcoming elections and support the People's Democratic Party – Nigeria's party for change, stability and liberation. Re-elect President Goodluck Jonathan on Feb 14.
*Dr. Harold Molokwu, PDP USA chairman and article is done On behalf of PDP USA
*Sponsored Content from PDP USA
Comments
comments