By Ajong Mbapndah L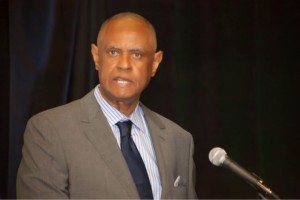 Fresh from an evaluation meeting to assess the success of the recent Ron Brown  African Affairs Series, Mel Foote, CEO & President of the Constituency for Africa (CFA) says reality has dawned on Washington that Africa matters. Although much work still needs to be done, Foote who has spent a life time focused on advocacy for Africa says, the perception of the continent today is in stark contrast to what it was in  the first three and four decades of independence.
It has taken a lot of hard educating Americans about Africa as it didn't matter at the time I came to Washington, said Foote .The images of Africa were of the famine in Ethiopia, wars, planes dropping food and all other negative images. American Aid was too small and was largely shared to dictatorial regimes like those of Mobutu or divisive figures like Jonas Savimbi of Angola perceived as friendly to the US government.
Today it is about economic opportunity, concrete partnerships and programs which can profoundly transform lives in the continent. Using the examples of terrorism and the last Ebola scare, Foote says there is greater awareness that developments in Africa can have an impact in the USA.
On his office walls are pictures which tell a long story of Foote's lifelong commitment to Africa. From meetings with Desmond Tutu, to former Ghanaian leader Jerry Rawlings, assessing the impact of the genocide in Rwanda as part of a US government mission, forums with other influential African-American leaders, congressional hearings and more, Mel Foote has been all about Africa for over three decades now.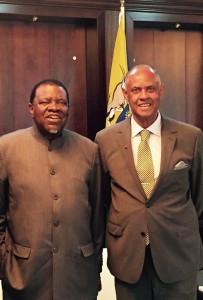 Despite the long road covered, Mel Foote thinks that much still needs to be done to boast the interest of African Americans on Africa. It is difficult to easily shirk off the impact of systematic policies of distortions, misinformation and general lack of education on the historic bonds that should exist between African Americans and Africa. Foote however believes that relations will continue to grow stronger as people get more educated about African realities.
With his status as a pioneer in African Affairs, Mel Foote also sees the need for greater synergy between African American groups and the new generation of educated young Africans getting actively engaged in advocating for Africa.
"Sometimes I wonder if there is someone working to make sure the African diaspora does not have a unified voice," says Foote who feels irritated when people question the commitment of people who have had a sustained interest in Africa just because there are not directly from there. Everyone has a role to play he says.
"While the young Africans may know specifics about their countries of origin, leveraging that with organizations and activists who have the right access and know how Washington works could lead to better results that benefit Africa as a whole," says Mr Foote . People who send remittances  do a great service he says, but the role of those who toil hard for policy changes and programs like PEPFAR and AGOA that have a bigger and more impactful long term role in African development should not be ignored.
President George Bush was a very good President when it came to programs on Africa says Mel Foote on the role of successive American Administrations. The Obama Administration was bogged down with domestic issues in his first term but, he has really stepped up in his second term says Mel Foote who says he played an active role in the conception of the Young African Leadership Initiative –YALI.
Expressing optimism that the Obama Administration will have more engagement with Africa before leaving office, Foote says he expects the continent to remain an area of strong focus for the next administration. The CFA will be reaching out to the candidates to sound off their vision for Africa ahead of the elections, said Mr. Foote.
The Constituency for Africa(CFA) that Mr Foote heads  "was founded in 1990, when a group of concerned Africanists, interested citizens and Africa-focused organizations developed a strategy to build organized support for Africa in the United States. CFA was charged with educating the U.S. public about Africa and U.S. policy on Africa; mobilizing an activist constituency for Africa; and fostering cooperation among a broad-based coalition of American, African and international organizations, and individuals committed to the progress and empowerment of Africa and African people.The  CFA was credited with fostering the necessary grassroots mobilization to spur the successful passage of the two most historic pieces of American legislation affecting the Continent of Africa: the African Growth and Opportunity Act (AGOA) and the Global AIDS Trust Fund"
Comments
comments