By LYNSEY CHUTEL*
JOHANNESBURG (AP) — Zimbabwe's president has arrived in South Africa for his first official state visit in more than 20 years.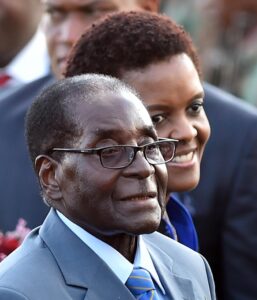 President Robert Mugabe arrived with his wife, Grace, on Tuesday at the Waterkloof air force base outside the capital Pretoria.
"This is a bilateral visit," said Minister of International Relations and Cooperation Maite Nkoana-Mashabane. "The focus is largely on consolidation of our bilateral ties."
One of the main aims of Mugabe's visit is strengthen economic cooperation between Zimbabwe and its wealthier neighbor, South Africa, according to an earlier statement by the Department of International Relations and Cooperation.
Mugabe will visit the Union Buildings, the seat of South Africa's government, on Wednesday where the two presidents will sign an agreement to increase trade. South Africa's exports to Zimbabwe amount to about $2 billion dollars, while in contrast Zimbabwe exports goods worth about $170 million to South Africa.
Mugabe has visited South Africa on other occasions, such as presidential inaugurations and the state funeral of South Africa's first black president, Nelson Mandela in 2013.
*Source AP/Yahoo
Comments
comments